[Below is an article from our May 2012 newsletter, and subsequently published by The Lutheran Witness' online column, "The View From Here."  It was written by our deaconess, Pamela Boehle-Silva.]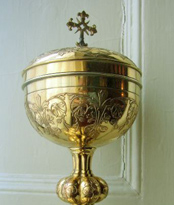 He leans sideways in his wheelchair, his broken body twisted and crooked. Dependent. Weak. Child-like. Poor. Humiliated. Unable to speak, his eyes convey his frustration, his confusion, his desire to be rid of this broken body.
Take, eat. This is My body, broken for you.
Surgeries meant to heal render him "useless"—at least as the world sees him. Friends, family say, "He wouldn't want to live this way," suggesting, "something be done" to end this tragedy. Suffering engulfs him and those who love him.
Take, eat. This is My body, broken for you.
Body broken. Immobile. Wheelchair bound. Hoyer lift moves him from chair to bed.  Flopped like a rag doll into the desired position. Diapered, he has lost control of his bladder and bowels. Bibbed, he drools like a baby.
Take, eat. This is My body, broken for you.
The distorted face is home to eyes of brilliant blue, following movements, speaking words that cannot be spoken.  An asymmetrical smile anchors lips still wanting to kiss. Uneven hands—one "good," the other "useless," still soft and beautiful—are reminders of times when this great man provided others protection and security.
Take, eat. This is My body, broken for you.
This broken body with its wounds and scars receives Christ's broken body in simple bread and wine.  Familiar words are spoken: "Take, eat; this is the true body of our Lord and Savior Jesus Christ, given into death for your sins. Take, drink; this is the true blood of our Lord and Savior Jesus Christ, shed for the forgiveness of your sins."
Medicine of immortality given to this broken body–a body still bent with limbs that don't work—a mind still scrambled with synapses that misfire.
Twisted, crooked lips receive the body and blood of Christ, giving what it promises: forgiveness of sins and peace.
The world sees damaged goods. Christ sees a body, broken by sin and disease now restored, healed, reconciled—in Him.
** This was written in memory of my father, Louis "Spike" Boehle, who suffered a major stroke during a surgical procedure in September 2010.  The stroke rendered him totally dependent on others for care. Unable to breathe properly, he had a tracheotomy and had to be on a ventilator for several weeks.  Unable to swallow, he had a feeding tube for a time.
His last months of life were lived out in the hospital, rehabilitation centers and finally in a board and care home.  He died on February 18, 2011, due to complications of pneumonia.  Distance separated us as he lay dying, but thanks to a hospice volunteer who held the phone to my father's ear, I was able to talk to my father, read God's Word and pray with him until his pastor arrived.
About the Author: Deaconess Pamela Boehle-Silva , R.N., serves as a deaconess at Holy Cross Lutheran Church in Rocklin, Calif.