Dylan. A sweet 15 month old who lives in love at the Udom rescue center in Pokot
Sunday 26 January 2020
It's funny how time moves when traveling. Sometimes, the days hurtle by and other times, it seems as if time is standing still.  Mostly, things are moving at a rapid rate here in Kenya. My head has hit the pillow at the YMCA in Nairobi, hotel rooms in Kisumu and Kabondo, and a guest house in the Northwestern area of Pokot. My suitcase is too darned heavy and I am embarrassed about all the stuff I've packed. Lugging it around is a chore and a constant reminder of how much I have.
I've come to spend time with my deaconess sisters—the beautiful women who so many years ago, opened my eyes to mercy in the light of suffering and darkness. We've been talking about taking care of body and soul. We talk of the realities they face–things they shared with me years ago–: suffering, shame and stigma, loneliness, depression, despair, hopelessness and fear of dying.  Heavy, intense subjects that require us to take frequent breaks for singing and dancing.  But this is the life they live, and if we are honest, it is the life we all live. For we live in a world that is broken and in need of healing.
The beauty of these women is that they show me that healing is possible. There is light in the darkness.  There is always hope. Our hope lies in Christ whose love and mercy heals us. We share that joy and that reality. That is what keeps us going when things feel despairing.
And so, I may stand up and teach, but the truth is that we teach and learn from one another. We all suffer in one way or another. And, in Christ, we find comfort in his broken body. We find healing in his wounds. In Christ, the darkness of suffering is a holy place for He is the One who is light and life. This is a mystery, and the layers of it are unveiled little by little. And, in Christ, we live, move and have our being.
Pastor David Chuchu and deaconesses in Nairobi. 
Pokot deaconesses in the Northwestern part of Kenya.
This is Pokot hospitality and generosity as they adorn me with gifts and singing.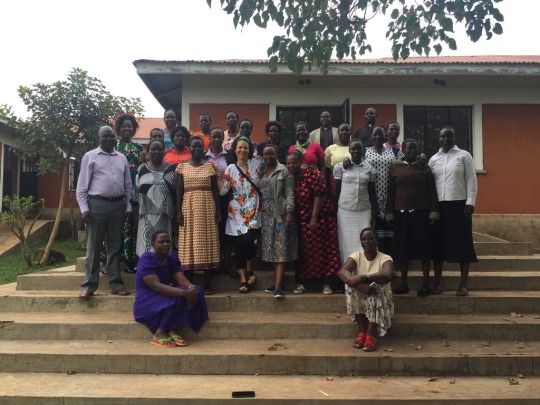 Another group of lovely deaconesses–quite rowdy and outspoken which I love! Closer to Kisumu and Lake Victoria
Photographer! Cell phones are a way of life here now.
via Always Mercy https://ift.tt/2RLZhDw