From our Deaconess Pamela Boehle-Silva on her blog at https://alwaysmercy.tumblr.com/
Mother's Day 2020 is different. (That's an understatement, with a twist of sarcasm.)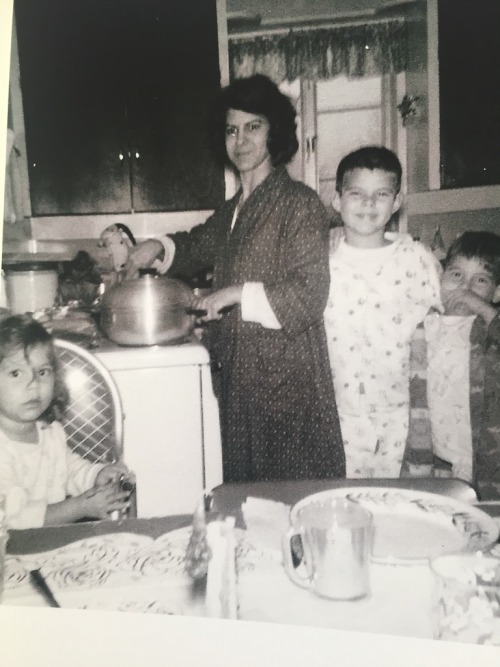 Me, mama, Greg and Mark. Note the bun warmer on the stove. I still have it!
I'd been dreading this Mother's Day–my first without my mama. I remember many years ago, a friend of mine whose mother had just died, told me she found herself in early May, standing in front of the racks of Mother's Day cards, with tears helplessly streaming down her face.
Maybe Sheltering in Place has its benefits.
The dread leading up to this day? Honestly, the anticipation of it was way worse than the day itself. Today, I was reminded of the gift of love from my daughter and son, who also miss their grandma. I was reminded that others do remember, and do care. I was reminded that sorrow has a way of connecting us to others who are sorrowing. This year, I am keenly aware of how this day might look to someone who is grieving, knowing that grief comes in many forms. A friend who is barren grieves what never was. Another friend grieves the relationship with her own mother that was less than optimal. A new widow sits at home alone, and another woman stuck in the nursing home, is isolated and lonely, thanks to COVID-19. A son celebrates with his wife and children, but the sting of his own mother's death many years ago remains. The list is endless.
My daughter, Kali and her grandma Margie 1990
My son, Christian and his Grandma Margie, 1994
And still, joy persists. Intertwined with sorrow is a joy that understands that things shift and change, and in the midst of tears, there can be laughter. With that in mind, I wrote a little story about dusting….it made me smile to think of it. I hope it does you, too.
Here's to my mama:
Dusting. I LOATHE it, as did my mama. But it wasn't always so.
When I was a small girl, about 5 years old, I so desperately wanted to be a helper to my mama. I especially wanted to learn to dust. Well, truth be told, it wasn't so much the dusting I wanted to do, but the spraying of Pledge furniture polish. For one could make lovely patterns on the coffee table with Pledge, then make them morph into a shiny sheen with a sweep of a soft cotton cloth.
The day came when my mother decided I was ready for this job. (This must have been before the ironing fiasco, in which I somehow burned the tender skin on my stomach while learning to iron my father's handkerchiefs.) She had me set up. Pledge in one hand, dust cloth in the other. Putting her hand over mine, she showed me how to gently and evenly spray the furniture polish and was about to let me go solo, when one of my older brothers burst into the house yelling that he'd found an abandoned nest of baby Quail. Well, everyone in the whole wide world, knows that baby Quail are waaaay more exciting than dusting. I dropped that can of Pledge and my dustrag, and headed outside. I watched anxiously as my brothers and father fashioned a little cardboard box with some old rags, rigged up a warming lamp, a tiny dish of water and discussed how they would feed these birds. I had visions of hovering and mothering these tiny birds, cupping each one in my hand and feeding it with a dropper. My fantasy was rudely interrupted with a summons by my mother to come back into the house to finish the job I'd started.
As you can imagine, the glamor of dusting had lost its luster, and I made my displeasure known in a sulky sort of way. I was a trying child….my mother was a saint. (nearly).
I've grown up to realize that dusting is highly overrated and I try not to give in to it's beckoning call too often, lest it become a habit.
Happy Mother's Day!